CHERYL WHEELER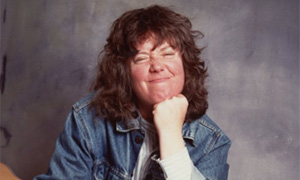 Friday, March 2, 2018
Showtime
Price
In Advance = $25.00 (plus $2.00 service charge)
Day Of Concert = $30.00
Artist Website
Sold Out!
Online ticket sales are no longer available for this event.
Artist Info
DO NOT MISS THIS SHOW — My son recently attended one of her two sold out performances at the Iron Horse Music Hall in Northampton, Massachusetts. "She'll make you laugh till your sides ache, and the next song will have you tearing up." This incredible songwriter has been hiding in New England, but we've been able to coax her to make an appearance in North Carolina. This will be the event of the season.
—————
Cheryl Wheeler has to be seen to be appreciated. Nothing you read and nothing you hear from her albums prepares you for how good a performer she is.
You may not be familiar with Cheryl, but you have probably heard her music. She is very respected as a songwriter by her peers, which can be seen by how many of them record her songs. Cheryl's songs have been covered by artists as diverse as Dan Seals, Peter Paul and Mary, Kenny Loggins, Garth Brooks, Suzy Boggus, Melanie, Bette Midler, Maura O'Connell, Sylvia, Kathy Mattea, and Holly Near. If they think she is great, then you owe it to yourself to learn more if you aren't familiar with her.
From her albums you can tell that she is a gifted songwriter with a beautiful voice. From other people's comments about her you can learn that she is a natural storyteller with a fantastic sense of humor. But until you see her in person, you never really believe what you've been told about her. Besides, almost half of the songs she does during her shows haven't been recorded!
Media